Journaling the coronavirus: Tuesday June 30th Oops, they did it again: after a victory lap and disbandment, the coronavirus task force has found it necessary to reconvene and warn the maskless masses another outbreak is not only possible but probable. 
---
Hello again. I wound down journaling the coronavirus just as the White House Coronavirus task force, itself, announced it was disbanding, to the disbelief of anyone who is paying attention. The President said in that final briefing back in late April "We have met the moment and we have prevailed" but later said he meant we just prevailed on increasing access to testing, which as of today is still well behind where it needs to be to be re-opening, which we're now in the process of learning the hard way and closing back up.
Experts everywhere advised against the rushed return to normalcy. "We're not reopening based on science," said Dr. Thomas R. Frieden, a former director of the CDC. "We're reopening based on politics, ideology and public pressure. And I think it's going to end badly."
Dr. Fauci echoed the concern in testimony before the Senate Health, Education, Labor and Pensions Committee:
"My concern that if some areas — cities, states or what have you — jump over those various checkpoints and prematurely open up, without having the capability of being able to respond effectively and efficiently, my concern is we will start to see little spikes that might turn into outbreaks." 

~Dr. Fauci 
Drs. Frieden and Fauci were right, so I have decided to revive the blog six weeks later, just days after the White House Coronavirus Task Force is reviving itself to take the podium and update us on the facts that have already become apparent: more people are getting sick at a faster rate, sooner than anyone expected.  Everything opened up and now the numbers are surging, in some places very strongly, to borrow a phrase that, alas, fits.
The numbers
We're at 10,496,859 infections globally, and 510,621 deaths. In the US we've just reached 264 million infections, and 128,000 have died. We're leading the world in infections now – the day they re-started the task force we hit a record of 40,000 new infections in a single day. The US represents 4% of the world's population, but 25% of all coronavirus cases.  The death toll of COVID in the US is 45 times the rate of South Korea, whose Covid-19 death toll is under 300.Since the number of deaths lags the infections, I fear we're in for a sad July and August. Already hospitals in Texas, Arizona and Florida are at capacity.  
At least 32 states are reporting an increase in new coronavirus cases. Of those, 11 states — including Florida, Texas and Arizona — have seen an increase of 50% or more. Following Texas' announcement that it will pause any further phases to reopen the state as Covid-19 cases increase, Austin Mayor Steve Adler says that "pausing will not make things better." 
"The trajectory that we're on right now has our hospitals being overwhelmed, probably about mid-July. So the status quo, the path we're on right now is the path that right now has us in danger. We need to do something that's different than that. We need our people in our community here to act differently. The status quo will not protect us." 

~Austin Mayor Steve Adler in an interview with CNN's John Berman. 
The situation as we approach July 4th weekend is not unlike the situation in the movie Jaws, when Sheriff Brody wants the Mayor of Amity to keep the beaches closed for Fourth of July until the great white shark that has killed at least three swimmers has been captured or killed. The mayor refuses – that will ruin our summer economy! says he – and everyone is splashing around and having a great time until a kid on a yellow life raft is taken like a floating canape. It's a great example of what happens when you re-open too soon, everyone thinking about the economy and ignoring the experts until there is literally blood in the water. That's a screenshot of the scene "Get out of the water" from the movie at the top of the blog post, it is also my screensaver on my laptop. I plan to keep it there all summer. 
The briefing in brief
It was good to see Dr. Birx and Dr. Fauci again; the voice of science still has a seat at the table, at least. Vice President Pence set the tone and starts out exactly as he left off back in April, talking about all the amazing things being done, but not really telling us what we should be doing, and what we need to watch out for. 
"All 50 states are opening up safely and responsibly," he asserts, then says "But with cases rising President. Trump directed us to brief the American people."  Cases of course are more than 'rising' they are hitting all time highs: the peak seven-day moving average of new cases was 31,630 on April 10, it's over 40,000 now.  Meaning, now is as bad as it's been at its worst.
It would seem apparent that we are not opening safely and responsibly if we are hitting all-time infection highs so dire that the task force hastily assembles to reassure the public; if there ever was a more poignant reminder we're in the Land of 2+2=5 I don't know what it is.
We continue to be on track to construct 100 ventilators in 100 days, VP Pence tells us, without mentioning the deadline, but surely we must be coming up on it, since it's been more than 60 days since the last time we were reminded of the goal.  "We're ready at a moment's notice to search personnel and supplies," says Pence and though "at a moment's notice" is inconsistent with "within 100 days" I'm glad someone is still on this, because hospitalizations are way up in some places – in Austin, it jumped 200% in one week. 
Maybe it's just me but I thought Mike Pence seemed nervous, his face red. He spent more time looking downward reading from his notes, which makes me think that there were a lot of last minute decisions on what would be said and not said at this briefing, and then the binders were printed up with the notes and handed all around. Very clearly one of the things on the "don't mention" list was the word masks. None of them said "wear a mask" more than once, much less repeatedly. Each of them outside of this venue has recommended Americans wear masks – the VP has sort of said it when he said "Wearing a mask is just a good idea" (10 points for a perfect slippery dismount on the message tho), Dr. Fauci and Dr. Redfield unequivocally said "We recommend masks for everyone" and "Masks are extremely important." while testifying to Congress.  At the briefing I watched serious professionals perform a ridiculous linguistic ballet in order to pacify their boss, who won't wear a mask, while indirectly through circuitous and coded language signifying to the listeners the importance of wearing a mask.
You'd think the message that wearing masks more than any other thing probably is the key to restarting the economy would be all people needed to hear to get on with it, enthusiastically.  Me, I wear my mask all the time when I'm outside, even if there isn't anyone in my immediate vicinity. I don't think of that as "living in fear" so much as "living in care". I run with it too – really fast, and up lots of hills.  It's just not a big deal. 
Dr. Birx thanked the millennials "heeding our guidance" which is "we are telling them to be tested."  It turns out coronavirus is an infection that spreads asymptomatically, or even with mild symptoms. While that's scary, it's also true that it is effectively stopped with a mask, even just a cloth one.  Two salon owners in Missouri were infected when they started seeing customers again, but wore masks and the infection didn't spread (all 140 of their customers also wore masks). Knowing that, you'd think all of us would be wearing masks willingly so we can get to the opening up sooner, but Americans are not into thinking, they are into shouting, throwing, and flipping off people who want them to show reciprocal care.
Each task force briefer at the podium says, at one point "As President Trump has said…"  None of them said, wear a mask. Wear a mask wasn't repeated, emphasized or proselytize in any way.  Dr. Birx said "Next slide please" more often than she said "wear a mask" which she said exactly one time, at the end of her remarks, in a hurried way, as if squeezing it in.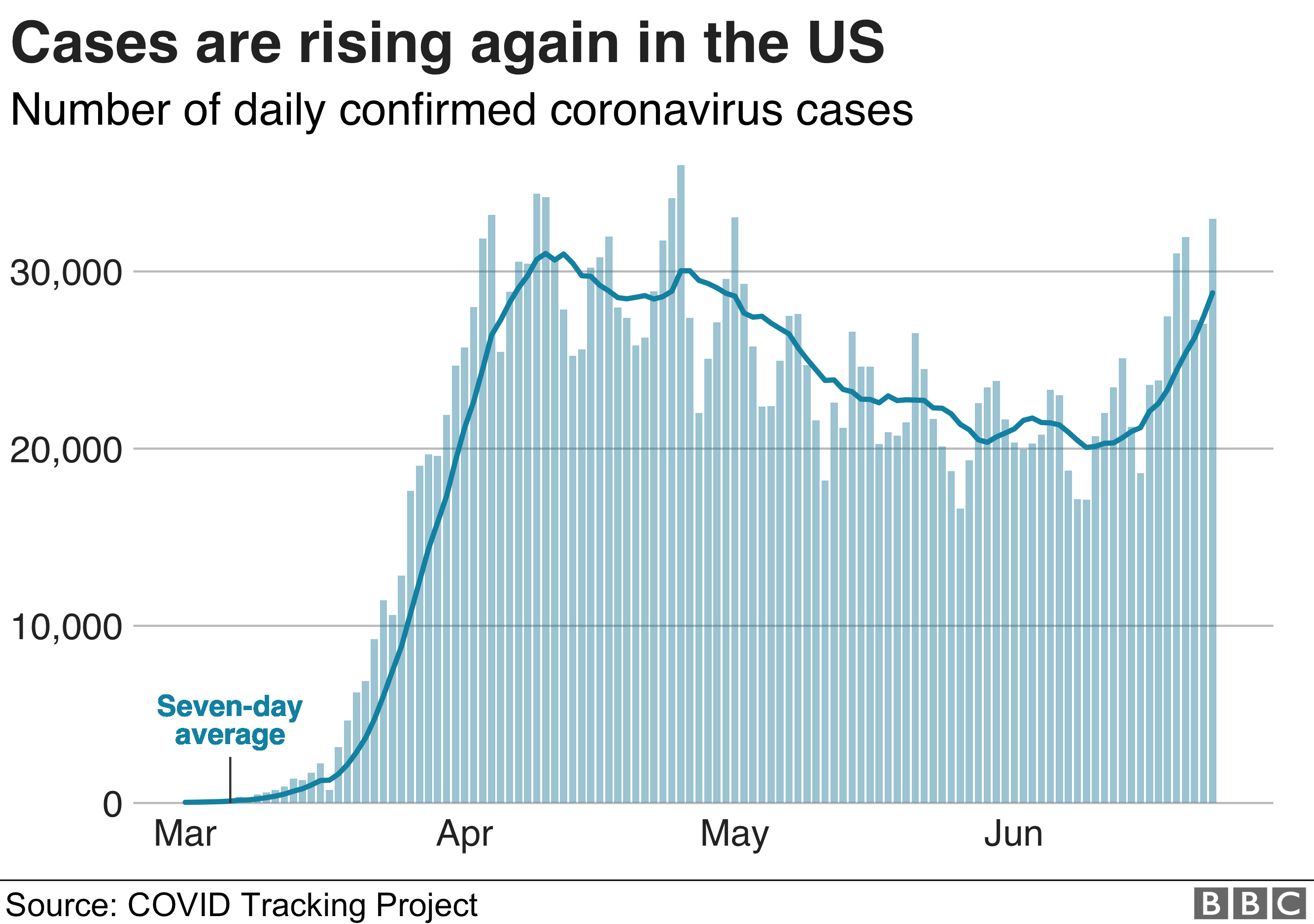 Dr. Birx went through a lot of charts, and it was tedious and hard to follow because she forgets that we in the audience are seeing these for the first time, but the takeaway is simple:  Texas and Arizona infection rates are bananas.  Florida, Missississippie, South Carolina, Alabama, Georgia, Louisiana, Nevada and Utah are also in significant trouble.    The statistic of something known as percent positivity over 7 days is really soaring, after a period of flattening and declining: it is 10-20% in 10 counties (supposedly 6% is red flag territory, and the preference is for it to be 1-2%). In the midst of the worst of it New York had a couple of days' worth of percent positivity over 7 days. New Jersey is closing up again, at least in part: no more in-restaurant dining in the Garden State.
Dr. Birx did not come right out and contradict the President's assertion that we're seeing more positive cases because we're doing more testing, but she danced around it with her verbal dexterity, saying "for awhile rising testing meant lower testing positivity, but in recent weeks, testing positivity is going up." 
A reporter asks if the situation is so dire, why does the Trump campaign continue to hold massive rallies with no social distancing and no masks? The answer, Mike Pence says, is freedom of speech, and the right and opportunity to participate in the political process which of course can be done online or by video OR BY MAIL as well as in person, but that is not a truth that Mike is willing to concede as it runs counter to the current trope coming out of the campaign, that voting by mail is rife with fraud and cannot be allowed even in a pandemic, though of course the President himself has voted three times by mail, as have Melania Trump and Ivanka Trump, but that's different.
"Our emphasis today is that we think it's most helpful if the American people understand what we're seeing across the South are outbreaks in specific counties and communities," says Mike Pence. I don't know about you but I had to re-read that twice to make sense of it.  Say what you will about the guy but Mike Pence is one mellifluous dude. Anyway just before the Trump campaign rally in Phoenix, held in a megachurch among young people, the Mayor, Kate Gallego, pointed out that the fastest rate of growth of infection was among young people.  So, yeah.
Dr. Fauci wore a mask to the briefing (Mike Pence did not). His comments were a little more direct, a little less circuitous as to the takeaway points. "We're dealing with community spread, where the infected don't know they are infected and even are asymptomatic," he said. "So, the classic paradigm of identification, contact tracing and isolation doesn't work when spread occurs with no symptoms," he said.  It also doesn't work if  testing is spotty, and we've designated no no facilities for quarantine/isolation, he summarizes (but in much more circumspect language) before telling us:  We're in a paradigm shift.  I wonder how many people derive from that comment the need to wear a mask. My guess, not enough.
He dances around the why of the outbreaks, saying maybe "we opened too soon, we didn't follow guidelines, we didn't want to follow guidelines…" scattering accountability like bird seed for us to peck off the ground.  The point is, says Dr. Fauci, "I have a message: we're interconnected, we can't get away from that. Therefore, as an interconnected society, we have to look at the fact of what our role is to end it and get back to normal and the economy recover.  What can we do?"
At this point, if he would just say "Wear a mask" it would be great because people know what a mask is and it's a memorable statement. But instead he talks about how protean the coronavirus is. My guess is less than 10% of the population knows what protean means (according to Webster: tending or able to change frequently or easily). 
Dr. Fauci keeps trying to make people conclude they should wear a mask without actually suggesting they wear a mask.  "To say "I'm going to take a risk" is not isolated to you, you are part of propagating the dynamic process of a pandemic," he says. "The chances are that if you are infected, you will infect someone else. When you go out and get infected, you are part of a process of reproducing the infection. Ultimately you will infect someone's grandmother, or a child with leukemia. You have a societal responsibility – if we want to end this outbreak, really end it, we've got to realize, we are part of the process."  At no point does he say "So wear a mask." 
"I make a plea, you are either part of the solution or part of the problem." 

~Dr. Fauci 
VP Pence finished up the briefing by adjuring people to follow the guidelines, he repeats, mentioning hand washing, staying home, social distancing – notably, he does not SAY masks. You can't make this stuff up! The closest he comes is "protective equipment".  He does not ask or advise anyone to wear a mask.  It would be a simple message, but he doesn't deliver it, and there is a reason. 
"Listen to and respect the guidance of your state and recognize it's different this time," he says.  "Continue to pray, by God's grace, every single day we will each of us do our part to heal our land."  I wish a reporter would raise their hand and say "what about the ~25% of Americans who don't believe in a God, what do you recommend they do?" but no one does. 
In closing, the Vice President tells us to "Take a step back and think about how far we've come as a country," which I certainly hope people will do. 
---
Shortly after the briefing American Airlines announced plans to begin selling every seat on its aircraft, something it has not done since the pandemic struck this spring – leading to the prospect of more full flights, especially over the July 4 travel weekend. Air travel overall is down about 80% from where it stood last year, according to Transportation Security Administration data. The rate of recovery, I suspect, will be strongly correlated to mask policy. A friend of mine making a business and house buying trip in the midwest reported that less than 20% of passengers were wearing masks, and those without were giving belligerent "whaddaya gonna say" looks to those with masks.  "The airline made zero enforcement attempts," he said disgustedly. When the time comes to move, he'll be driving, saying flying is not worth the risk.  I'll also note he is a former Trump supporter, emphasis on the former.
My daughter starts college at the end of August; tomorrow the university is having an online town hall to discuss the plan to have students physically on campus. After reading the morning's headlines ("Fauci says if we don't halt current trends we'll soon be at 100k infections a day" – a quote that made non-mask-wearing Senator Rand Paul demand "more optimism") I wonder if these plans will still be the same in 60 days. The head of school is apparently one step ahead of me, warning they may  make a mid-semester decision to close in-person classes down. Students will be tested weekly, classes are built around 6 foot social distancing with masks required, and there will be no dining hall meals. On moving-in day, parents will not be permitted to enter the dorms. How different her first year of college will be from mine.  
Jobs, Mitt, and Mnuchin
I've been job hunting for months now, multiple applications every day. If you're reading this and also job hunting, say hi in the comments. Among other wealthy nations, America is one of the worst places to be unemployed during a pandemic, for sure: Australians are receiving about $1,000 bi-weekly; Brits get ~$3k per month. Canadians are getting $1500 a month, Danish unemployed get $3200, French and German unemployed receive more than $7,000. 
In each of these countries, life can go on as before; people can buy food, pay their rent or mortgage and utilities as they wait for such time as it is safe to reopen their economies.  In the US, everyone received $1,200 for the 10-week shutdown. Well, not everyone received it – 159 million checks were sent, and at least $1.4 billion when to dead people according to a Government Accountability Office – seems Mnuchin's department and the IRS forgot to run the "gets a check" list against death records.  This is a junior error that would get a junior analyst at any decent research firm fired; it's amazing (well, chilling, not to mention expensive) that no one in the Treasury Department or the IRS even thought of it.  It's like they spilled $1.4 billion on the floor while pouring CARES Act beers for the country and don't mind all the waste because woo hoo it's an open bar! Mnuchin is a Republican, just like Mitt Romney who said on a hot mic at a private fundraiser in 2012 that everyone who voted for Obama was a lazy freeloader – remember that? You can bet he does, and he's done all kinds of fancy footwork of regret since then and even marched for Black Lives Matter, but bottom line, these are the values Republicans are voting on, even if they'll no longer say it for fear of being overheard/understood.  
"There are 47 percent of the people who will vote for the president no matter what. There are 47 percent who are with him, who are dependent upon government, who believe that they are victims, who believe the government has a responsibility to care for them, who believe that they are entitled to health care, to food, to housing, to you-name-it. That that's an entitlement. And the government should give it to them."  Mitt Romney
In the US, people are being forced to return to work in unsafe conditions; some businesses, though they can be open, have closed again, unwilling to fight customers over the issue of wearing a mask or not. Those out of work are out of luck. Two months ago Chairman of the Fed Jerome Powell gave a speech calling this an unprecedented time in modern history,  saying that our  financial system is strong, so we won't have a second Great Depression, because this downturn won't last as long as the last one.  But, he said, it's critical to keep families solvent, keep workers in their homes and paying their bills. 
"The Fed can lend money, now Congress needs to spend money," said Powell. Congress is not doing that, though, so seems like we *could* have a second great depression, reading between Mr. Powell's lines. Experts estimate that 42% of the jobs that have disappeared have disappeared for good. It's clearly time to distribute a universal basic dividend, and indeed Joe Biden appeared on UBI candidate Andrew Yang's podcast but, weirdly, they didn't talk about it, which obviously had to be by prior arrangement, since that is the main topic that Andrew Yang is known for and is podcasting on. November is a long way away, though, and at the rate things are going, maybe President Biden will conclude early in his tenure that an FDR moment is required, a time to reset society and business for optimal prosperity of all, and not just a few. 
Amazon ended its $2-an-hour pay increases and double overtime for warehouse workers at the end of May.  Meanwhile, Amazon CEO Jeff Bezos, the wealthiest human in history, has made a killing off COVID, his wealth has soared to $150 billion, with an estimated $35 billion added just this year.  But hey, it's not just Jeff – lots of people are profiting during the pandemic, and many of them are our elected representatives, who collectively made  1,500 stock transactions worth $158 million while the virus spread quietly among us back in January/February, undetected:  a total of 27 Democrats, 21 Republicans, and 1 independent cashed in, with Rep. Phil Roe (R-Tenn.)and  Rep. Gilbert Cisneros (D-Calif.) trailed Roe each with more than 200 transactions worth millions. 
Based on all of this, it seems the people that will come out of the coronavirus in the best shape are corporations, which at the moment is a feature of the American political system, not a bug. 
NBA, David Bowie, Colin K
There are 16 NBA players who are infected. Eight of the president's campaign team turned up infected, including members of the Secret Service. The guy who co-wrote the Joan Jett hit "I Love Rock n Roll" has died of COVID, also the lead singer of Fountains of Wayne, also Roy from Sigfried & Roy fame. John Prine died, what a loss. Little Richard died too, not of COVID but bone cancer, an equally monumental loss. David Bowie called Little Richard his inspiration for getting into music. I wonder if all the people who appreciated David Bowie appreciated Little Richard quite as much. David Bowie was a really wise dude, if you haven't checked out his immediate far-reaching understanding of the Internet, you should watch this video interview. 
"It's simply a delivery system," argues the interviewer, "But you're saying it's something more profound?"
Bowie laughs politely.  "It's going to crush our ideas of what mediums are all about," he predicts. RIP, David, we miss you. Say hi to Prince.
Colin Kaepernick, the emblem of peaceable protest for a provably righteous cause, is still a free agent. LeBron James says the NFL owes Colin an apology; I say they owe him a job, if it's a job he can still do. Word is he can. I bet it's the most viewed game in history, the one where he takes the field for the first time. A moment American can come together on. 
In other health-related news, Wendell Potter is a guy that made a lot of money in the insurance industry, then turned on them in a fit of conscience, I guess. He was a VP at Cigna, and now he's the president of Business for Medicare for All and Medicare for All NOW! which if you're counting is a 180 degree turnaround. Wendell tweeted "During this coronavirus crisis, keep an eye on every move of my old industry: health insurers. Behind the PR spin, they will be doing everything they can to deny care & maintain profits, while making it look like they're heroes." Certainly I am seeing some fantastical COVID patient bills with heroic profits built in – one Seattle patient received a 181 page, $1,000,000 plus bill.  Welcome to winning in the greatest country in the world.
Wendell made a video trying to dispel the lies he was paid to tell about Canada's nationalized healthcare system, e.g. lies about Canadians waiting in long lines for knee replacements, lies about Canadians coming to the US.  My brother-in-law is a Canadian, his mother crossed the border into Canada when the time came to go into labor and deliver her baby.  "Everyone did it, it was way better healthcare," she said matter-of-factly. 
"Well, I never heard of such a thing," said my mom, who favors Fox News. My brother, too, was indignant. "First time I've ever heard that – I heard the opposite," he said.  I'd like Mr. Potter to call up my parents and my brother, all of whom are in the high risk category for COVID, and explain his lies to them, but I won't hold my breath.  He should understand, though, how his lies were used as ammunition by propagandists tearing at the fabric of American society and democracy. It's not an "oops" kind of mistake. 
Meanwhile Fox News kept its offices closed through June 15th while urging Americans to get back to work, and laughing at the wimps wearing masks. Fox's reporting on the pandemic was last month described as "a danger to public health" in an open letter signed by 77 health experts worried the network is contributing "to the spread of a grave pandemic."  But now that the White House Coronavirus Task Force has had this emergency reconvening, even Sean Hannity has been on his program saying "masks work."  Mitch McConnell tweeted it, and Mike Pence says he'll be wearing one.  The signaling/symbology of the mask is sure to be a focal point of communications experts and historians for years to come as they examine the spectacular final pratfall of the vaunted American economy. 
Sean and Wendell will probably come through the era of coronavirus okay – they aren't spring chickens but they have a lot of resources. The people that revere them, follow their arguments and don't wear masks, and vote for politicians who don't support a national healthcare system like every other wealthy country in the world because they don't quite get those politicians are receiving huge amounts of money from insurers…well, I'm tempted to say Sean and Wendell both have a lot to account for, but all the accountants, like Elvis, seem to have left the building. They'll stay rich no matter how many additional people died for a virus we should have, could have, would have been better prepared for, if not for their efforts, at least in part. 
At the emergency task force meeting, the head of the CDC Dr. Redfield made it clear the country is still facing steep challenges in responding to the pandemic.  But he's standing at the podium with a president who is holding big rallies, with flunkies removing social distancing stickers from the seats beforehand, so make of that what you will (which could be the tagline for this administration's handling of the virus, actually: Make Of It What You Will!)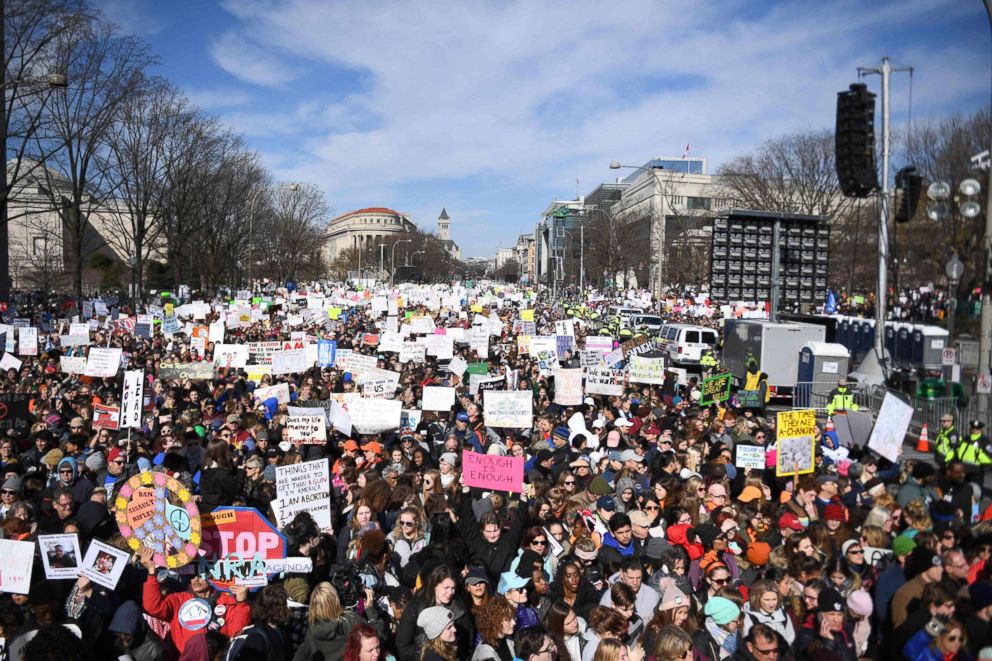 Testing and Protesting
We are told that by September, the country will have the ability to conduct 40 to 50 million tests per month. The amount of testing in the United States has been steadily increasing, but not fast enough. Some experts have said that 2 to 3 million people per day must be tested in order to quickly identify hot spots and get the virus under control.
Until that testing capability is reached people should be social distancing to prevent community spread. I went to a protest and was surprised how diligent people were – keeping their distance, everyone in masks. The protests that have erupted nationwide, in big cities and small towns, have not been superspreader events that health officials feared.  In Minnesota, the health department tested 8,500 protesters with only a 1% positivity rate.
The coronavirus clusters we're seeing do not align with the places where massive protests are taking place, but rather with superspreaders attending parties or work.  Whatcom County in Washington identified a party of 100-150 people that spread the coronavirus to a total of 20 people and 31 employers. Fully 60% of the pork plant workers in Perry, Iowa, are infected.
"We're finding that the social events and gatherings, these parties where people aren't wearing masks, are our primary source of infection. The secondary source of infection is workplace settings."

~Erika Lautenbach, Director of Whatcom County Health Department. 
Recently in a committee hearing Bernie Sanders pressed FDA Commissioner Dr. Stephen Hahn on whether every American would be able to get a free test, and Dr. Hahn responded that "the payment of vaccines is not a responsibility to FDA."  He said he would bring the question to the White House Coronavirus Task Force, noting he shares Sanders' "concern that this needs to be made available to every American." 
The task force either didn't get the question from Dr. Hahn in time to prepare an answer or they don't have an answer, as where and when to get a test and how much it will cost is not a topic the task force touched on, despite many repeated assurances that the US leads the world in testing. If you're reading this, slide into the comments and let me know if you've had a test, and where. There has been some testing in San Francisco, revealing that the Latino community is infected at a much higher rate than the white community, but the testing was limited to a 15 block radius that didn't reach my house. 
Good news: After 274 years, Princeton had its first ever black valedictorian. But the police officers who killed Breonna Taylor as she lay sleeping in her bed have not been charged, even after three months.